Yogurt Ricotta Blintzes with Meyer Lemon Marmalade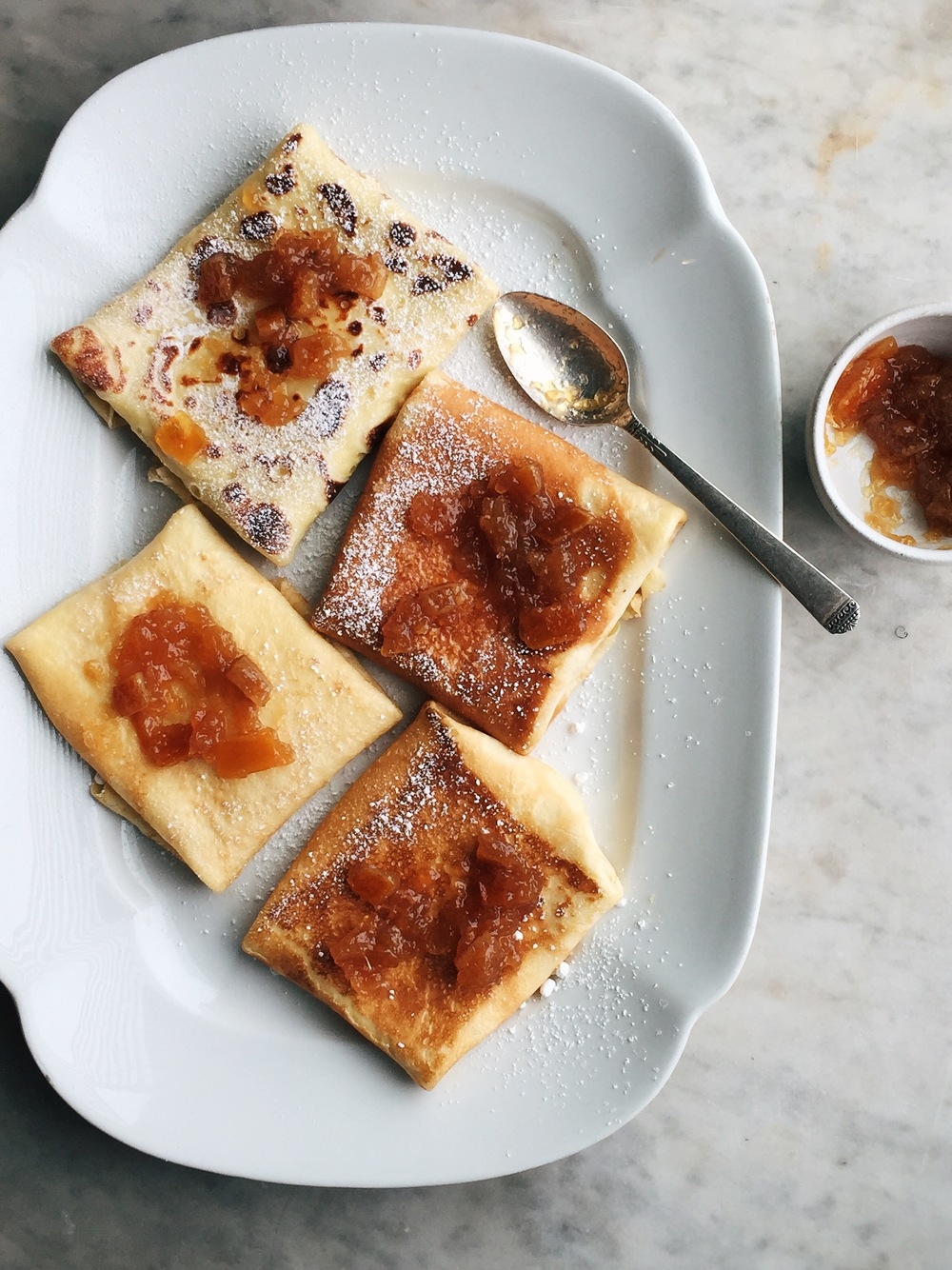 Tangy yogurt and sharp Meyer lemon preserve add some sass to my grandmother's classic blintze recipe. For a multi-fry situation, these crepes are pretty damn airy. They are also, as my grandmother used to say, "such a bother" to make, so relish every bite.
Ingredients
4 eggs
2/3 cup flour
1 cup milk
½ teaspoon baking powder
pinch of sugar
butter for the pan
1 cup ricotta
3 tablespoons yogurt
Tablespoon powdered sugar
pinch of salt
meyer lemon preserves * make your own by simmering meyers lemons in equal parts water and sugar until the mixture reduces to thick marmalade.
Steps
For the crepes
Whisk together eggs, flour, milk, sugar, baking powder and salt until smooth. The mixture should be thinner than pancake batter. Set aside for 30 minutes to an hour.
Melt butter in a flat-bottomed 8-inch pan.
Scoop ¼ cup of batter into the center of the pan and life and swirl the pan to spread the batter out evenly. (I generally call the first attempt a mulligan, while I get my crepe technique down.)
Cook on the first side for a minute or so, then flip and cook another minute, until you get nice browning. Then set aside and repeat until you've uses all your batter.
For the filling
Mix together yogurt, ricotta and powdered sugar
For the Blintzes
Lay out crepes on the countertop, then one at a time, scoop a heaping tablespoon (or 2) of cheese into the center of each. Fold each crepe into a squat rectangular pocket by first folding in one end generously over the filling, then each side and, finally rolling up the exposed end—burrito style.
Heat butter over medium heat in your flat bottomed pan, then fry blintzes for a few minutes on each side, until they are golden brown.
Keep warm in oven until ready to serve with preserved Meyer lemons.